– About Reefco –
---
The Reefco Services team is highly talented with over 30 years of experience in Refrigeration, Air Conditioning, Electrical and Plumbing trades.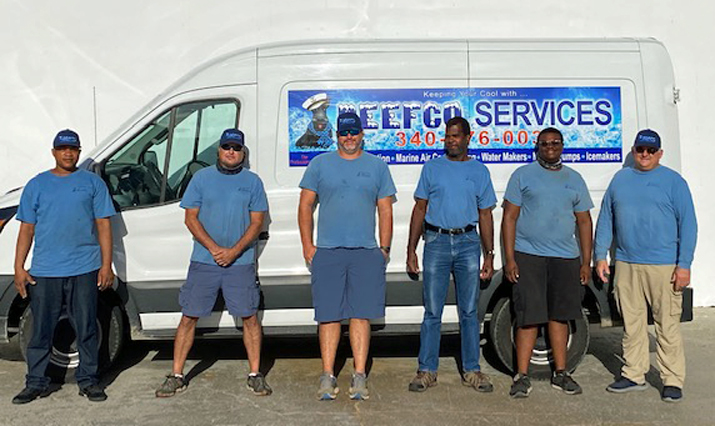 Our clientele spans the entire boating range: runabouts, sailing vessels, charter boats, cruisers, sportsfishermen, mega-yachts...
Reefco's Frenchtown location is easily accessible; located across from the Veteran's Drive Post Office and behind Sbarro Pizza. Reefco provides service to all St. Thomas marinas.

Click HERE to enlarge image in new window
---
Extract from Superyacht Services Guide
"We sailed especially from Martinique to St. Thomas to give our maintenance and repair works to Reefco and Island Rigging. We've dealt with them from time to time over the past nine years and as per our expectations, we received supreme workmanship and friendly service. It's a pleasure to be able to give such well deserved positive feedback."
"These guys are simply the best around."
"Reefco are the ONLY refrigeration engineers you would want to be using in the USVI."
"They also stock a large inventory of parts here. As agents for Frigoboat, Grunert, Marine Air, Cruisair, Eskimo, Aqua Air, Waeco Adler Barbour, Katadyn, HRO, Sea Recovery, AMI, and FCI watermarkers - they look after all aspects of marine refrigeration, air conditioning, watermakers, marine pumps and electric motors."
"You guys are AWESOME"
"Have heard good things on the docks about Reefco Services"
HOME > About Reefco